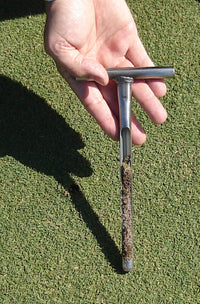 Introducing the new Turf-Tec Pocket Tubular Soil Sampler - 1/2 inch diameter soil sampler. This tool that is the smallest diameter tubular soil sampler in the business.  Its 1/2 inch diameter sampling tube is made of Stainless Steel. The rugged but  lightweight sampler is perfect for quick soil sampling of areas like golf greens  and athletic fields without leaving behind a large hole. It will remove a clean  sample to a depth of six inches in all types of soils.
Quickly inspect the soil for moisture content, root depth or any other physical  characteristics. In addition, the Turf-Tec Pocket Tubular Soil Sampler - 1/2" Diameter  is manufactured out of Stainless Steel so you can also use it for soil sample  collection without the worry of contamination from iron, copper or zinc. Its  overall length is eight and a half inches which is ideal for carrying with you  anywhere.
This tool is ideal for checking soil moisture in golf greens, turfgrass infields, bowling greens, cricket pitches and any other intensively maintained turfgrass areas because it only makes a small hole, there is no disturbance to the putting surface and no additional stress to the turf.
Keep a Turf-Tec Pocket Tubular Soil Sampler Stainless Steel - 1/2 inch Diameter with you so you are never without a soil sampler.