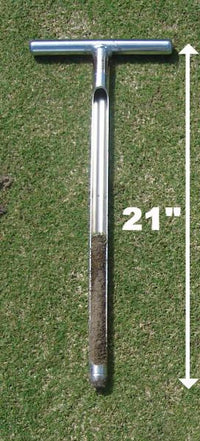 The Tubular Soil Sampler extracts a core sample 15 inches deep by 3/4 inches wide.
All welded-steel design.
The Tubular Soil Sampler 21 inch deep is an excellent soil sampler for examining the soil for deep analysis of texture, moisture and composition. and for soil sample collection. The specially designed cutting tip is ideal for turfgrass rootzones. The Tubular Soil Sampler 21 inch can also be used for collecting soil samples for laboratory nutrient analysis. It is also useful in determining root depth and moisture content. Outside diameter (OD) of sampler tube is 1 inch (25.4 mm) and inside diameter (ID) is 3/4 inch (19.05 mm). 
The unit is chrome-plated for long life, and the Tubular Soil Sampler also has a replaceable cutting tip.