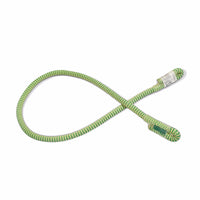 The Ocean Polyester e2e is a hitch cord with two stitched eyes, which is ideally suited for your applications in the field of tree care.

The Ocean Polyester e2e is our answer to the complex requirements imposed on hitch cords.
The cover of the Ocean Polyester Eye-to-Eye (e2e) consists of braided polyester/aramid, and its core is made of high quality polyester fibres. This mix of materials makes the Ocean Polyester e2e highly heat resistant. The stitched eye-to-eye loops come in diameters of 8 or 10 mm and are designed to grip a carabiner. These high quality stitched end terminations permit perfect handling with the DMM Hitch Climber Pulley.


Standards:

EN 795B:1996, EN 795B:2012

Diameter: 10mm
Min. breaking strength [daN] 3,300
Min. breaking strength [lbf] 7,410