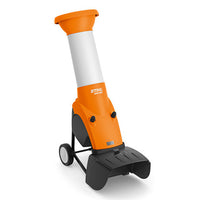 The STIHL electric shredder GHE 250 is a versatile machine ideal for anyone looking to keep all corners of their garden tidy. Whether plant trimmings or woody garden material – the blade shredder can shred hard, soft, long and wide clippings quickly, reliably and efficiently. The sandwich-type blade unit with Multi Cut disc can also effortlessly shred medium-sized branches up to 30 mm thick. The powerful motor ensures smooth, efficient operation. The housing and feed chute provide a high degree of comfort and safety during operation. The large inclined feed chute makes it easy to feed foliage, branches and plant trimmings into the shredder. The STIHL GHE 250 electric garden shredder can be tipped onto its wheels and moved easily between its place of use and storage location.
Soundproofed feed chute
The large feed chute facilitates feeding of the STIHL shredder. The soundproofed feed chute reduces working noise when shredding in the garden. The integrated spray protection provides a shield against swirling dirt.
Safety lock
The electromagnetic safety lock prevents the garden shredder from starting automatically during maintenance operations or when the blade is being changed, for example. The safety switch is integrated in the opening mechanism on the STIHL shredder. As soon as the closure screws on the machine are unscrewed, the safety switch is tripped and the current flow is interrupted.
Touch pad switch
The housing of the STIHL shredder is fitted with a touch pad switch and an operating indicator to allow simple and intuitive operation of the garden shredder.
Accessories
ATZ 150 inclined feed chute with cutting system
The STIHL inclined feed chute set ATZ 150 is used to convert a STIHL garden shredder so it can shred thicker branch material efficiently. It consists of a short, soundproofed, inclined feed chute and the Multi Cut 150 cutting system. The inclined feed chute set is compatible with STIHL electric shredders GHE 250 and GHE 260.
AHB 050 Sturdy 50 l grass catcher box
The STIHL shredder bag AHB 050 collects shredded tree cuttings and green cuttings directly under the shredder. The self-standing grass catcher box has a capacity of 50 l and was developed for tough everyday work. It can be used to carry even larger quantities of shredding material with ease. It is available as an optional accessory for most STIHL garden shredders (with the exception of shredder models GHE 135 L, GHE 140 L, GHE 420, GHE 450, GH 460, GH 460 C).
Technical specifications
| Technical specifications | Value |
| --- | --- |
| Max. branch thickness | up to 30 mm |
| Max. branch thickness | 35 mm |
| Nominal output | 2.500 W |
| Rated voltage | 230 V |
| Weight | 27 kg |
| Cutting tool | Multi-Cut 250 |
| Guaranteed sound power level LwA | 103 dB(A) |
| Measured sound pressure level LpA | 92 dB(A) |
| Uncertainty factor sound pressure level KpA | 3 dB(A) |
| Uncertainty KWA | 2,7 dB(A) |
| Nominal speed | 2.800 U/min |