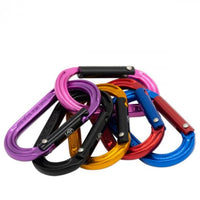 strong. handy. colorful.

Despite its small size, miniME is a powerful and effective fighter, giving to some others accessory carabiners a considerable thrashing.
Specifications
Color: Blue, Red, Black, Pink, Gold, Purple
Material: Anodised Aluminum alloy
Sizes: 58 x 33 mm
Weight: 8.7 g
Despite being a mini clone of bigger carabiners, mini-Me is shown to be stronger and tougher than some of its larger counterpart. Your miniMEs
will be discreet and will carry out a multitude of missions without ever betraying you. The only challenge for you will be to choose the color.
Breaking strength: 4kN (407kg / 897 lbs)
Not

 

for climbing (non-PPE)