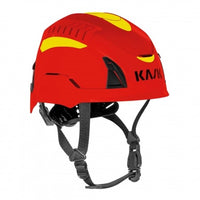 * 
Our first helmet designed for wildland fire fighting EN16471, technical rescue EN16473 , and mountaineering EN12492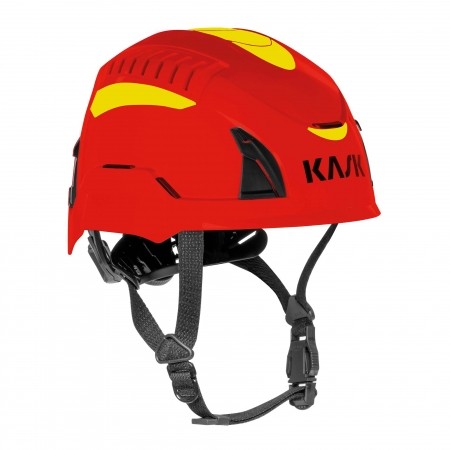 Special Features
ROTATIONAL IMPACT WG11 TEST <0.39
The Rotational Impact WG11 Test is the result of over 10 years of KASK development and evaluation of rotational impact testing methods and measurements. The test is also grounded in the new 2020 EU motorcycle helmet safety standard rotational impact ECE 22.06.
PC/PBT EXTERNAL SHELL
External shell made of polycarbonate and polybutylene terephthalate blend (PC-PBT ). Allows for higher impact resistance in a range of temperatures, higher heat and flame resistance and greater chemical resistance. 
Polybutylene terephthalate (PBT) is a thermoplastic polymer, and a type of polyester. PBT resists solvents, shrinks very little during forming, is mechanically strong, is heat-resistant up to 150 °C. 
VENTILATION
14 air intakes for enhanced breathability and cooling comfort for the wearer. Can be covered with a sliding closure system.
ANTI-INTRUSION MESH
Metal mesh vent covers that prevent debris from entering the ventilation channels while maintaining breathability.