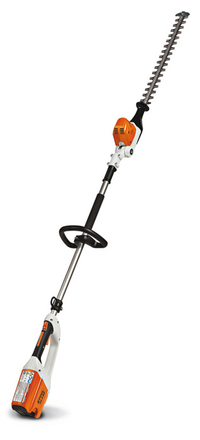 Looking for trimming versatility? Check out the STIHL HLA 65 lithium-ion extended reach hedge trimmer. This extended reach hedge trimmer offers long run times with no gradual drop in performance. It features six different locking positions, giving professionals a 105-degree operating range. Its cutter bar is also adjustable and foldable and includes an automatic blade stop when folded. The hedge trimmer is lightweight and easy to maneuver in hard-to-reach places. Its quiet motor produces zero exhaust emissions – an excellent tool for working in noise-restricted or environmentally sensitive areas. Best of all, there's no gasoline cost and no restrictive power cords.

The HLA 65 also delivers on the cutting performance, featuring specialized blade geometry and diamond-ground blade edges for clean cuts, even through thick and tough shrubbery. The 20-inch blade length is an efficient working length for most applications, and the tip protector helps protect blade tips from damage.

Run time may vary based on battery type, charge level and capacity, model, operating style and conditions. Batteries and chargers can be purchased separately or as a combined set with tool.
HLA 65 Specifications - Professional Use

BLADE LENGTH

20" (50 cm) dual-sided

SHAFT LENGTH

Extended Length 6 ft. 9in.
Folded Length 4 ft. 1 in.

STROKES PER MINUTE

3,000

POWER SOURCE

Battery

TOOTH SPACING

33 mm (1.3")

BATTERY SERIES

AP Series

RUN TIME (w/ AP 300)

Up to 180 minutes (Recommended combination)

WEIGHT (w/Recommended Battery)

w/ AP 300 5.1 kg. (11.3 lbs.)