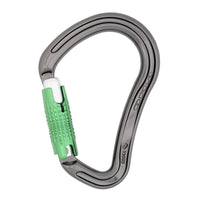 The ever popular 30kN Boa is ergonomic and user-friendly and ideally suited to applications where large connector volume and gate clearance are required.
Can accommodate multiple ropes and devices with ease, and fits perfectly into a gloved hand.
DMM's patented Taperlock closing mechanism increases gate push-in and cross gate strength using a special flared profile on the nose of the carabiner, as well as allowing a snag free connection for your ropes, slings and devices.
| | | | | | | | | | |
| --- | --- | --- | --- | --- | --- | --- | --- | --- | --- |
| Product Name | Product Code | Colour | MBS (Major Axis) | MBS (Minor Axis) | MBS (Gate Open | Dimensions | Weight | Gate Opening (X) | Conformance |
| Boa HMS Locksafe | A907 | Titanium/Green | 30kN | 12kN | 9kN | 81 x 122mm | 97g | 23mm | N 362:2004 B/T, EN 12275:2013 B & H |