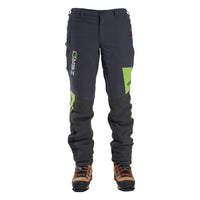 WHY WE MADE THIS:Designed for women arborists who work in hot conditions, these trousers are light and cool with a fit designed for a women's physique.CERTIFICATIONS:Certified by Bureau Veritas NZ Ltd to the Australian and New Zealand standard, AS/NZS 4453.3:1997 (20 m/s chainspeed).FRONT AND 360 CALF PROTECTION, SHORT AND TALL LEG VARIANTS:The Front and 360 Calf Protection, short and tall variants are made to order products which have an additional lead time of 1-2 weeks
Zero chainsaw trousers achieve the previously impossible. Cool, lightweight and rugged. The women's edition of the Zero was the first purposely designed chainsaw protective trouser for the professional female arborist. Shape, fit and comfort has been considered for the best possible fit. 
Now available in the Gen2 version, the new Women's Zero embraces your movements: you are able to stretch, climb and jump freely. No need to be worried about tears and rips – the outer fabric of the garment has been reinforced. Of course, Zero's fit and style stays the same. You will look good in the trees… or on the ground!


Chainsaw protection
Uses Clogger's exclusive Arrestex HP chainsaw fabric which is light and breathable with 6 layers of advanced technical chainsaw protection.
Arrestex HP includes ultra strong UHMWPE cut resistant fibers cross woven to improve multi-directional strike performance.
Waist to ankle coverage with extra coverage on the left side to allow for movement if a chainsaw strikes.
Outer construction and design
The outer fabric incorporates COOLMAX® to lower body temperature by dispersing body heat and moisture.
High-tenacity high vis orange polyester outer with 4-way stretch fabric for greater freedom of movement and flexibility with FlexZone in the seat seam for extra give.
Abrasion resistant fabric over the knee, the inside of the calf and ankle areas increasing the durability in these high wear areas.
Ultra-high tear strength UHMWPE fabric at the right calf to protect against small cuts caused by the chainsaw when hanging off the harness.
Elasticized waist for a snug fit and extra comfort.
Lock stitched seams and reinforced stress points.
Tree people specific detail
Tough, large cross flow mesh side vents for maximum cooling.
2 zipped hip pockets; 2 zipped thigh pockets individually sewn to be able to remove saw dust with an additional pocket on the left thigh. Lower pockets are all accessible while wearing a harness.
Strong, durable zippers with a better seal to reduce the risk of sawdust damage.
Special zipper pulls on the pockets to make accessing your pockets easy even when wearing gloves.
Boot hooks made from durable plastic construction that has been reversed to prevent snagging on throw lines all while still securely holding trousers in place when climbing.
Wide belt loops to fit up to a 50mm belt.
Mesh lining for enhanced breathability.
Opening at hems to remove debris.
High visibility panels front and rear.
Weight
Lightweight design, just under 1kg (Medium).
Options
Protection: Front only or front with 360 calf wrap for additional protection.
Fit: Women's or Men's.
Size: 2XS - 2XL.
Leg Length: Short, Standard, Tall.