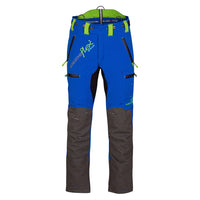 PRODUCT DESCRIPTION:
With the Breatheflex Pro's everything comes down to the weight and performance of the trousers. With high tenacity polymer, we can ensure these trousers will keep you well protected and still allow you the flexibility you need to manoeuvre around the job site and canopy of a tree with ease.
The trousers feature an incredibly resilient and abrasion-resistant panel on the front and ankle. The material is woven with Kevlar fibres which makes it extremely tough when getting bashed and scraped on trees and debris every day.

The crotch is made with Kevlar to eliminate ripping and incredibly stretchy fabric that allows for the ultimate amount of movement and flexibility in the tree.

Based on customer feedback the trousers now feature a brand NEW liner which offers unrivalled comfort and will no longer trap sawdust or leg hairs in the material on the inside legs of the trousers.