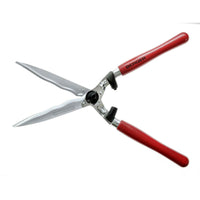 The BERGER hedge trimmer no. 4590 is made of high-performance steel and with its beech wood handles is pleasantly light in the hand. The blades are matt chrome-plated and ensure a long service life of the sharp blades and protection against corrosion. The two deep juice grooves made by the professional tool made in Germany have a self-cleaning effect and allow for permanent, clean cutting without sticking, every cut is clean and precise for the healthy growth of your hedges and shrubs. The serrated edges of the blades ensure effective cutting, because the branches are held in the blades during the cutting process due to the wave shape, preventing them from slipping off. The wing nut of the metal gland is molded with plastic for easy and safe handling.
Chromium plated wavy blades.
Adjustable blade tension.
Shock absorbing buffer.
Blade length 24cm.
1010g.
Length 57cm.